Editorial staff of The Journal "Agriculture and Forestry" : Guangyu SUN (CHN)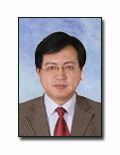 General Information

Name:

Guangyu

Surname:

SUN

Position:

Professor in Plant Pathology

Institution:

College of Plant Protection
Northwest A&F University

Contact

Phone number:

86-29-87092075

Fax number:

86-29-87092075

Mobile:

86-13384922506

E-mail:

Addresses (Street No):

22

Addresses (Street):

Xinong Road

Addresses (Postal Code):

712100

Addresses (Town):

Yangling, Shaanxi

Addresses (Country):

China

Other

Born in 1963, Shaanxi, China.

B.Sc. (1985), M.Sc. (1988) and Ph.D. (1997) completed at Northwest A&F University, China.

Researcher in Molecular fungal systematics: Fungal biodiversity, mainly on apple pathogen diversity; Integrated management of apple diseases, mainly on sooty blotch and flyspeck, Botrysphaeria canker, Valsa canker, moldy cores, and early leaf defoliation of apple.

The author or co-author of more than 80 scientific papers on taxonomy on ascomycete and their anomorphs,Etiology, pathogenicity, and control of many disease agents in agricultural and ornamental plants. Many of them are in ISI rated journals (Fungal Diversity, Persoonia, Mycological Progress, Mycotaxon, Mycoscience, Phytopathology, Plant Disease etc.) and presented at international or national Congresses.

The Council Member of Chinese Fungal Society. The Council Member of Phytopathological Society for China. Member of Editorial Board of Mycosystema. Member of Editorial Board of Journal of Fungal research. Vice council chairman of Shaanxi Phytopathological Society.

Over 25 years of teaching experience in University Courses: "Plant Pathology"; "Fungal Biology"; "Mycology"; "Taxonomy of Fungi".

Study-trips in United States, Japan, Australia, France, Germany, Italy, Korea, Thailand.