Editorial staff of the journal "Agriculture and Forestry" : Božidarka Marković (MNE)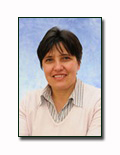 The Journal "Agriculture and Forestry" / Časopis "Poljoprivreda I sumarstvo"
General Information

Name:

Bozidarka

Surname:

MARKOVIC

Position:

Associate professor

Contact

Phone number:

+382 20 268 441

Fax number:

+382 20 268 432

Mobile:

E-mail:

Website:

www.btf.ac.me

Skype:

bozidarka.markovic

Addresses (Street No):

1

Addresses (Street):

Mihaila Lalica

Addresses (Postal Code):

81000

Addresses (Town):

Podgorica

Addresses (Country):

Montenegro

Other

Born on November 1, 1966, in Plužine, Montenegro. Graduated from the primary and secondary medical school in Foča, and from the Faculty of Agriculture, Department of Animal Husbandry, in Sarajevo, in February 1990.

Enrolled the postgraduate studies at the University of Agriculture in Zemun, the Group for Breeding and Reproduction of Domestic Animals in 1993, and defended the master thesis entitled "Productive and reproductive properties of different varieties of goats in Montenegro" in July 1997.

Defended the doctoral dissertation entitled: ''Properties of milk yield of the Balkan Goat and polymorphism of the alpha S1 casein'' in January 2004 at the Faculty of Agriculture in Novi Sad.

In the period September 1991 until the end of April 1992, she was employed by "YUKO" Žitište - Zrenjanin in Serbia, and since May 1992 employed at the Centre for Animal Husbandry of the Agricultural and later on, the Biotechnical Institute, now the Biotechnical Faculty in Podgorica, where she is employed even today.

Conferred the title of Senior Researcher in 1997, the title of the Research Associate in November 2004, and the Associate Professor of subjects General Animal Husbandry and the Sheep Breeding and Goat Breeding in June 2010.

Covers the office of the co-ordinator of the Department of Animal Husbandry since 2005. National Co-ordinator for Animal Genetic Resources at the FAO since March 2008.

In the past 10 years attended several specialization courses and study visits abroad (Norway, Italy, Austria, Slovenia, Macedonia, Hungary).

As author or co-author published more than 40 papers and publications.

The Journal "Agriculture and Forestry" / Časopis "Poljoprivreda I sumarstvo"
ISSN 0554-5579 (Printed)
ISSN 1800-9492 (Online)
DOI : 10.17707/AgricultForest
Search
Volume 66 / Issue 3
to be published in:
54 days, 21 hours, 2 minutes.